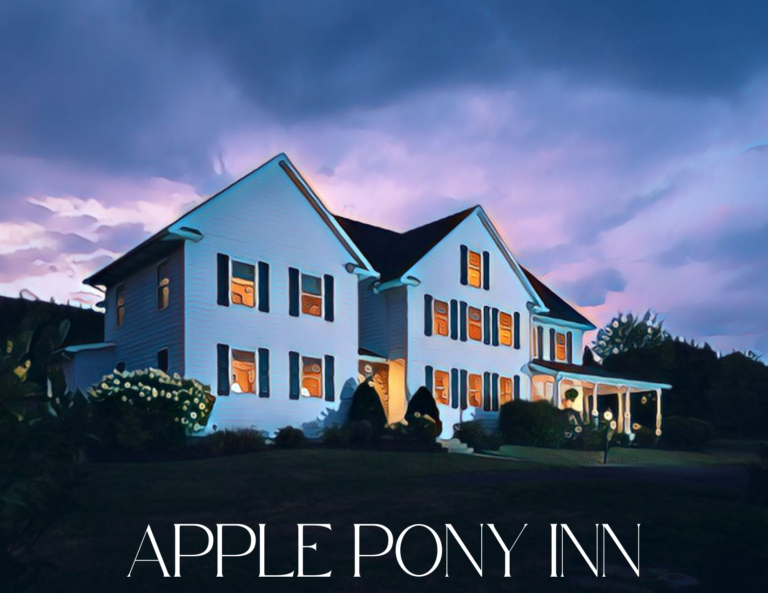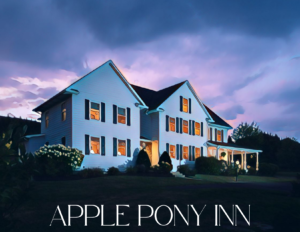 Check out our latest  Apple Pony Inn Google Reviews
We are currently listed as 4.9/5 stars with 9 recent reviews.  See what customers are saying about us:
"Gorgeous property, great rooms, terrific host family, and delicious food! What more could you ask for!!!
The Inn is a short 10 minute drive to campus but was a nice break from the craziness of downtown State College during a football weekend. We stayed for the Ohio State Football weekend in the Shire Suite . The room was spacious, beds comfortable and we also had a large bathroom with soaking tub. Due to early tailgating we missed the delicious homemade breakfast on Saturday but enjoyed it Sunday morning , served by their personable daughter Ali. Rachel, Tom and their family couldn't have been more gracious hosts, we will certainly be back !!!"
"This B&B could not be any more perfect!!! The area is beautiful and rustic, but still only a 10-minute drive from the football stadium and a 5-minute drive from restaurants, etc. The grounds are beautiful, and the views are magnificent (we had the pleasure of warm October weather and beautiful autumn colors). The B&B itself is warm and inviting – with bedrooms in separate "wings" on each side and a living room with a big TV in the middle, along with a mini-kitchen for guests to grab snacks and drinks and two dining areas. We were in town for a girls' weekend to enjoy penn state soccer Friday and the white out football game Saturday, and actually looked forward to getting back and relaxing with the fire after our long days. But, what really sets the place apart are the owners Tom and Rachel. They're the perfect hosts and put together a spectacular breakfast both days (the quality of the food and having all four of our dishes coming out within seconds of each other and hot off the stove/out of the oven made it feel like a high-end restaurant). Their daughter helped to serve which was also lovely. Everything feels brand new, is beautifully decorated and is meticulously clean! I'm torn between telling everyone I know or keeping Apple Pony Inn a secret, as I'm afraid my new treasure will become extremely popular."
"Stayed here a few weeks ago and the hosts are so nice. The house and room is beautiful in a great setting close to PSU but with a country feel. We will be back."
"Everything you are hoping to find in a B&B in the heart of Happy Valley. The Apple Pony Inn is an upscale cozy retreat that offers a relaxing stay close to PSU. As soon as you arrive, you are graciously welcomed by the owners Rachel and Tom and their lovely daughter Ali. The rooms are beautifully decorated with thoughtful touches throughout the Inn. Rachel and Tom serve a delicious gourmet breakfast in the morning and make you feel right at home. I highly recommend this to anyone looking for a perfect family get away, romantic get away, girls weekend, business trip, or visit to see your student. You will love it! I cannot wait for my next visit :)"
"The Apply Pony Inn was easy to get to, clean, with roomy accommodations that were well thought out, charming Penn State décor, and a delicious breakfast to start the day! We had our family of six stay during a Penn State Football game, and it was easy to check in/out, the kids loved the indoor and outdoor space, and everyone had a well rested stay. We plan to stay again during the next Penn State Football season!
Our family of four had the pleasure of staying at the beautiful Apple Pony Inn for one night during their soft opening. This was the first time we had met Tom and Rachel, and we found them to be genuinely warm and gracious hosts. It's clear that Rachel has an innate instinct for hospitality. The inn is tastefully decorated and the rooms are spacious, sparkling clean, and comfortable. There's something magical about Mt. Nittany for us Penn Staters, and our family thought it was very cool to stay at the base of the mountain."
"Friends of ours also stayed at the inn while we were there, and we very much enjoyed having relaxing conversation in the common area after a busy day on Penn State's campus and downtown State College. The next morning Rachel and her family prepared a delicious breakfast for all of us, while accommodating our family's dietary restrictions in a gourmet fashion. The kids especially appreciated their homemade spiced cherry jam, and I loved the locally-roasted coffee. Our stay truly could not have been better, and we hope to return in the future for more fun times with friends and family at Penn State and the Apple Pony Inn!"